About CoServ
In this post, we will break down CoServ's marketing strategies and tactics (leading to an average $47 million) and how they were able to reach 96,945,000 people in its community effort.
As regulation happened with more and more competition, CoServ had the upper hand to make its brand stand out. We are going to analyze how CoServ designed its marketing campaigns for growth.
Ever since Texas deregulated its energy market in 2002, approximately 85% of commercial and industrial consumers have switched power providers at least once.
Approximately 40% of residential consumers in deregulated areas have switched from the former incumbent provider to a competitive REP, such as Ambit Energy, Green Mountain Energy, etc.
Withstanding the test of time, deregulation and competition are major challenges every cooperative with deregulation market in America has to solve.
According to the data in 2017 from US Energy Information Administration, CoServ was formed in 1937 and is the #2 largest co-op in Texas with over 222,654 members and total revenues of $452,731,000.
Note: Despite our research effort to analyze CoServ's digital strategies, we are not able to cover their offline strategies, such as billboards, direct mails, local sponsorship, printing, publications, etc.
Summary of Strategy
CoServ Charitable Foundation (CCF)
Evolution of Capital One Landing Page Since 2006-2018
Current Landing Page Breakdown (2018 and onward)
Total Revenue 2008 – 2017 (Source: CoServ's Annual Reports)
Year
Total Revenue

 

(in thousands)

Difference

 

(in thousands)

Annual

 

Growth %

2006
$348,079
 
 
2007
$384,841
$36,762
10.56%
2008
$430,834
$45,993
11.95%
2009
$390,022
-$40,812
-9.47%
2010
$427,575
$37,553
9.63%
2011
$432,647
$5,072
1.19%
2012
$392,330
-$40,317
-9.32%
2013
$413,464
$21,134
5.39%
2014
$486,555
$73,091
17.68%
2015
$455,776
-$30,779
-6.33%
2016
$441,384
-$14,392
-3.16%
2017
$471,050
$29,666
6.72%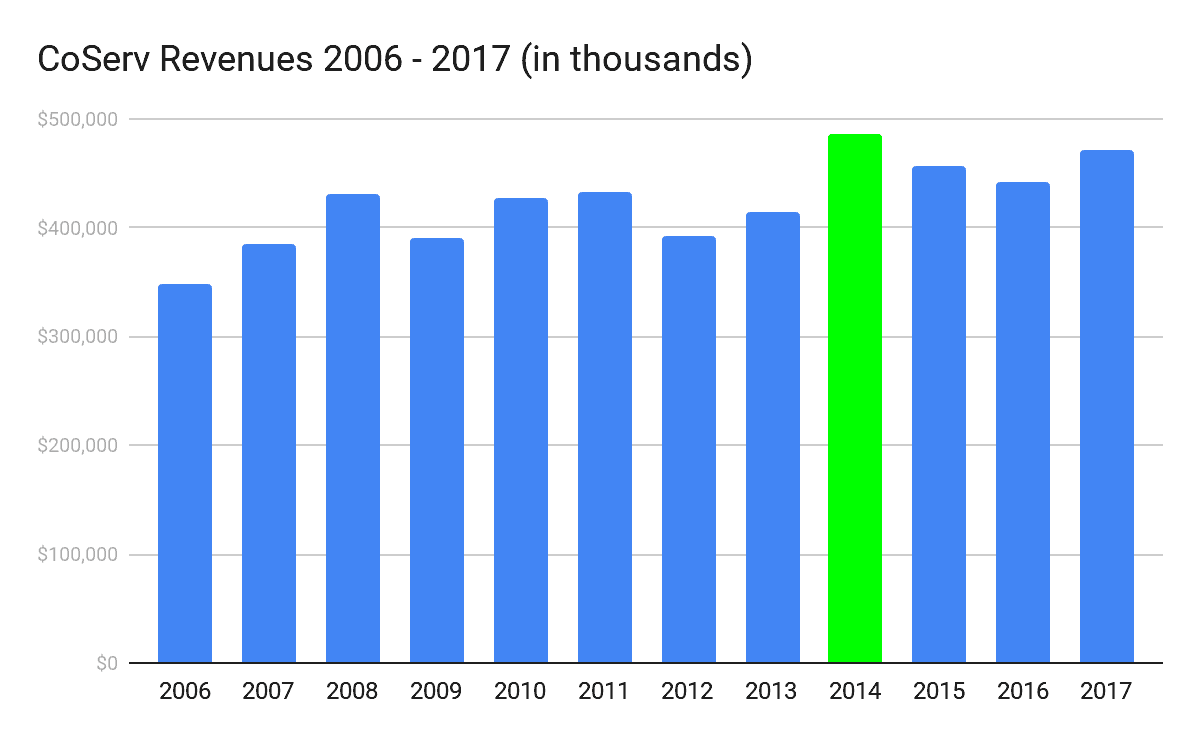 Total Electric Members 2008 – 2017 (Source: CoServ's Annual Reports)
Year
Total Members
Difference
Annual

 

Growth %

2008
123,000
 
 
2009
130,020
7,020
5.71%
2010
135,732
5,712
4.39%
2011
161,159
25,427
18.73%
2012
143,253
-17,906
-11.11%
2013
150,338
7,085
4.95%
2014
159,108
8,770
5.83%
2015
172,117
13,009
8.18%
2016
177,401
5,284
3.07%
2017
189,293
11,892
6.70%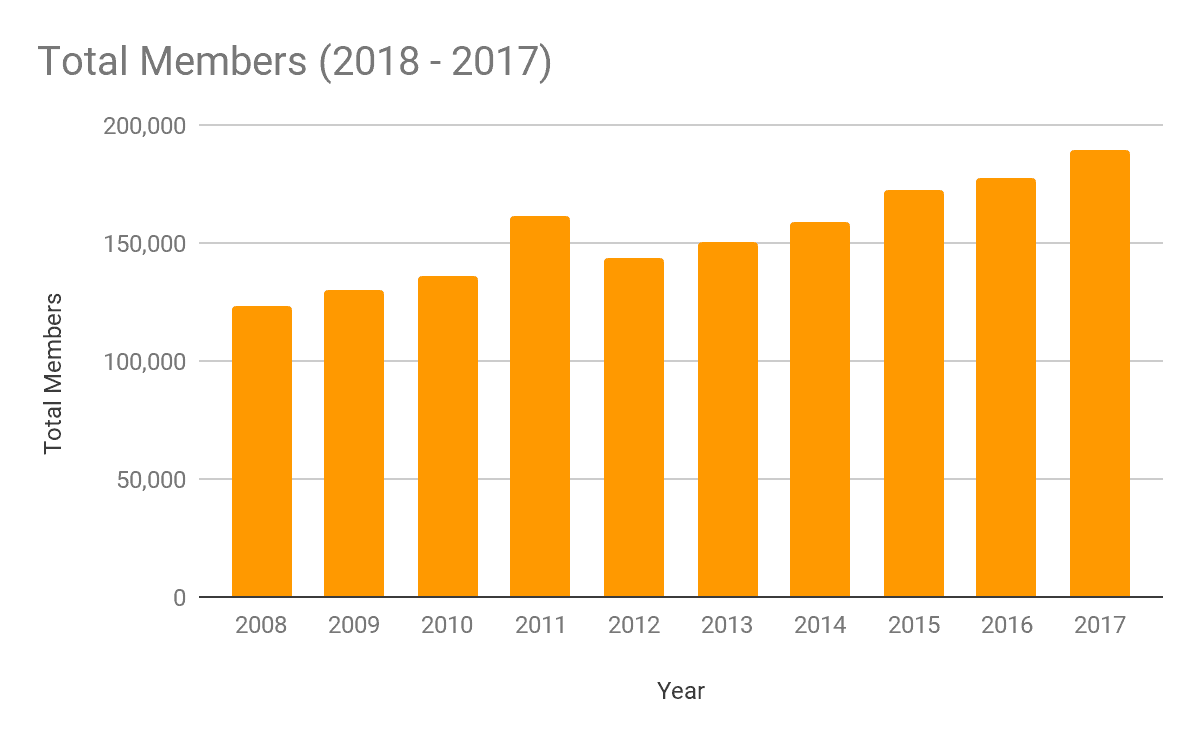 Website Traffic Analysis

According to SimilarWeb, 99.76% of web traffic coming to CoServ is from 2 buckets:
Direct – visitors who use CoServ's URLs, or search for branded terms (76.86%)
Organic Search – traffic coming from organic SEO (22.9%)
Direct Traffic
Over 148K visitors out of 192K visitors (76.86%) are aware of CoServ's brand and directly type their branded terms in the website's browser.
It is understandable because they have invested a lot into communities it serves and the result really speaks for its outstanding effort.
They captured a whooping 96.26% branded traffic. In other words, people know about the CoServ brand and what it does. This is HUGE for them, as it shows the company's leadership realizes that enormous investment in branding can bring about the recognition they need.

Organic Traffic
In addition to the ⅔ of its direct web traffic, CoServ enjoys a firm position in the organic search results in major keywords.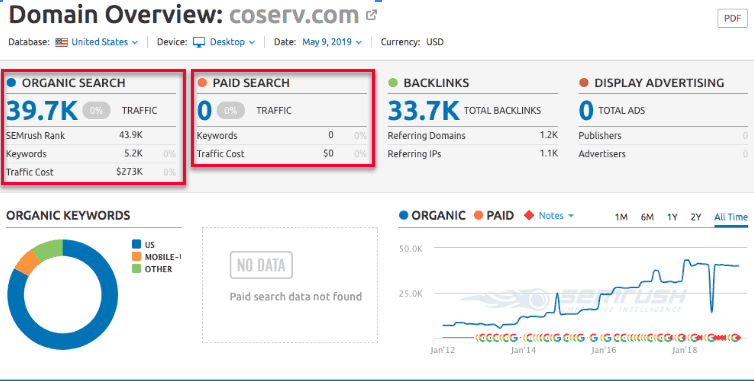 For instance, the keyword "coserv" occupies No. 1 in the search engine, with a search volume of 33,000. The No. 1 position indicates a powerful strength in the CoServ brand. Moreover, CoServ is also well known for its "utility" side when members searched for keywords such as "coserv bill pay" and "coserv login."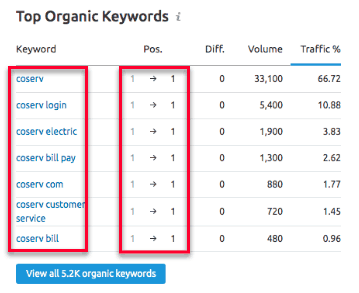 In summary, CoServ has built a massive brand recognition not only due to its tenure (since 1937) but also its involvement in the community. That's why they got rewarded by the huge percentage of direct traffic and organic search on Google.
As regulation happened with more and more competition, CoServ had the upper hand to make its brand stand out. In the next section, We are going to analyze how CoServ designed its marketing campaigns for growth.
Marketing Campaigns
TOGETHERWESAVE
In 2009, the total revenue dipped $40,812,000, from $430,834,000 in 2008 to $390,022,000 in 2009. CoServ started TOGETHERWESAVE campaigns (including many other programs) to help its customers save more money.
This campaign has done its magic when CoServ first made it official on its website in 2010. 2010 was a HUGE year for them; their total revenue was $427,575,000. It was $390,022,000 in 2009.
Over the years, this campaign has evolved and expanded and we are going to analyze each mini program from the overall TOGETHERWESAVE campaign.
CoGreen Home Makeover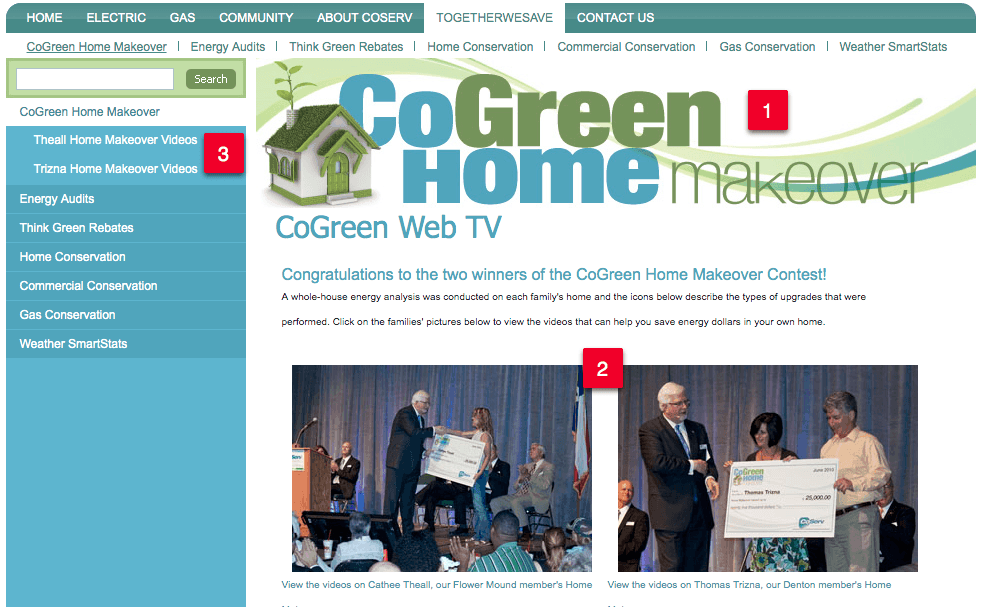 This GoGreen Home Makeover contest was a campaign to engage its members to utilize different types of upgrade to save energy in their home.
CoServ was very strategic to feature its winning members with a prize of $25,000 which would get a lot other members excited and participating in the program.
In addition, CoServ documented the whole process of how it helped its members to save energy from the list of upgrades below.
Also, CoServ was meticulous to design a list of energy-saving upgrades, which could make a big difference to save their members money.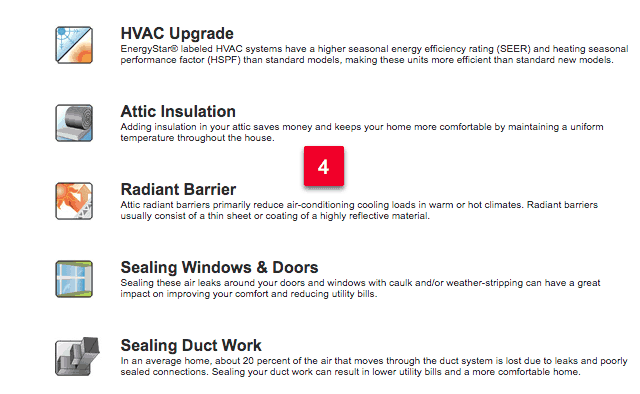 In addition, for the contest's winner, CoServ documented its whole process from energy audit to HVAC upgrade so that its member can see exactly how it was done.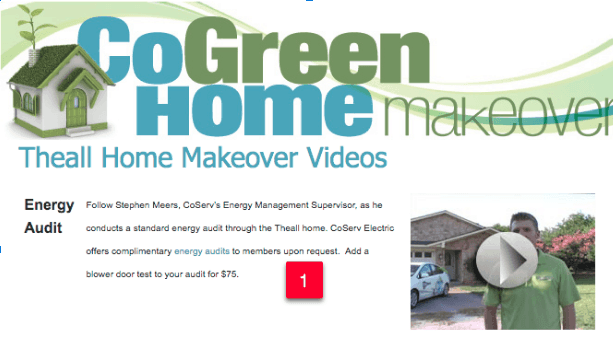 For the Theall Home Makeover, CoServ started with its energy audit, and Mr. Meers from CoServ walked us through the whole process.
Here's Mr. Meers from CoServ: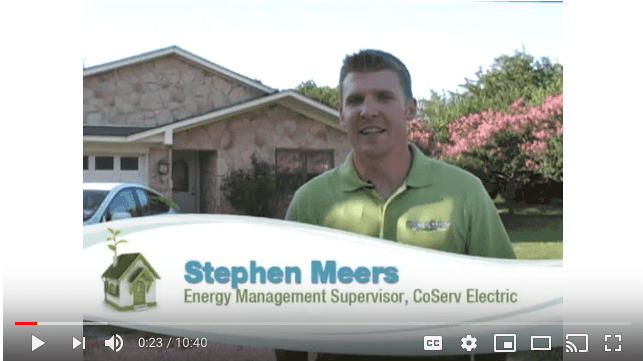 Link: https://youtu.be/Rl9BdiQBKeY
CoServ not only documented its HVAC inspection process but also helped its member replace the old and inefficient HVAC system with a better, more efficient one.

Here's the video: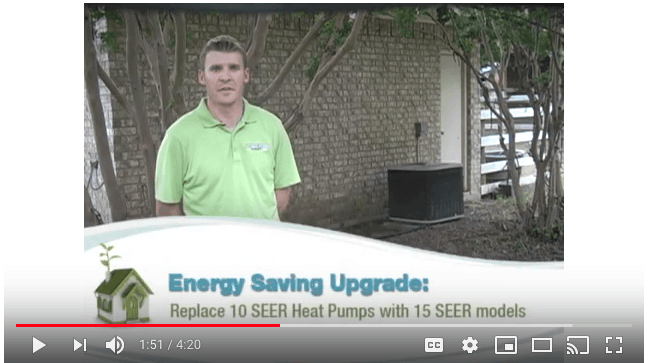 Link: https://youtu.be/4Q5rSGNeYmQ
We think they did well for this campaign because its process and interaction with its members were engaging and best of all the prize was a huge motivator for members to participate.
Energy Audits
The success of the CoGreen Home Makeover campaign paved the way to the complimentary energy audit from CoServ.
This program was available to all of its members, from residential to business. CoServ would inspect a lot of things including windows, doors, attics, appliances, heating and cooling unit.
Furthermore, CoServ added a nice upsell of its "Blower Door" program ($75) for members who preferred the detailed energy audit to identify exactly where the leaks were in the house and how much money they were losing.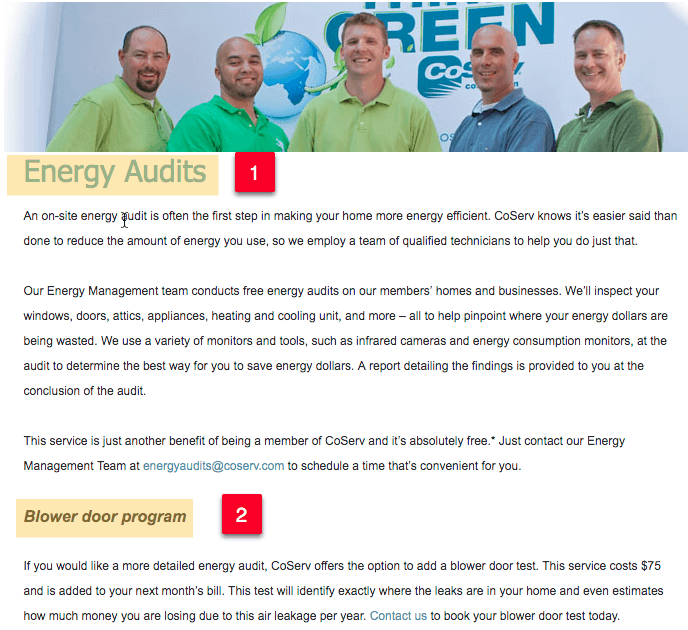 Think Green Rebates
Via the partnership with Brazos Electric Power, this rebate campaign was born to provide rebates to CoServ's members throughout a variety of rebate programs.
We think the rebate program was a massive boost to CoServ's core offer. When a plethora of choices surround consumers due to the deregulation, having a rebate sweetens the deal.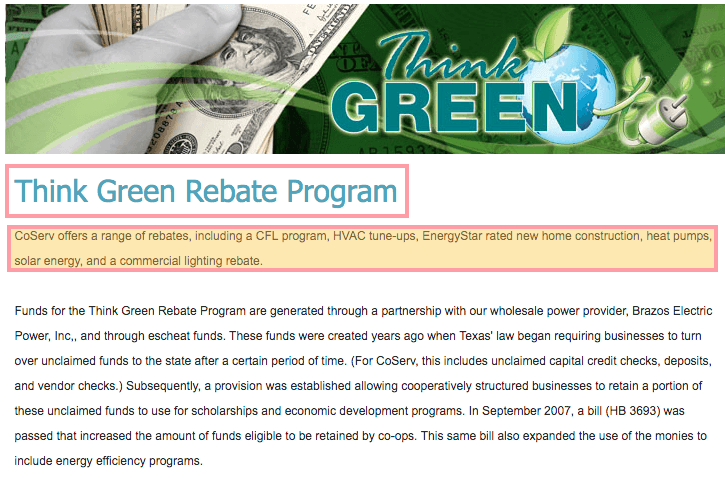 Specifically, they have multiple rebates programs such as: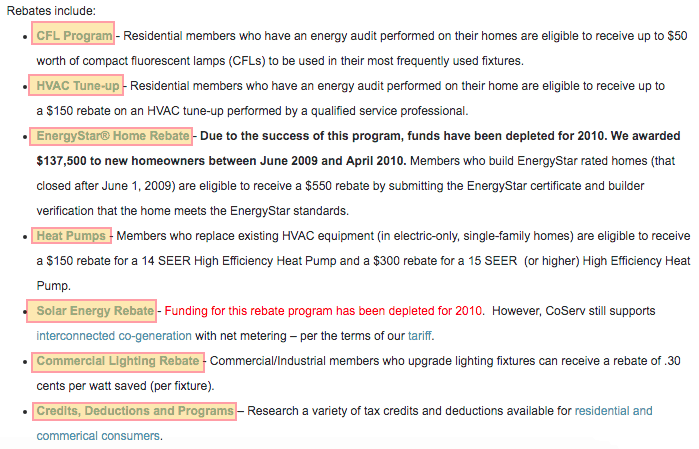 The rebate program was quite successful and bred many raving members and advocates. They did a terrific job of capturing those moments to feature the success of the program among their members.
For example, member Craig W. was advocating for the solar rebate program on video: https://www.youtube.com/watch?v=G7Y3lXhyCzA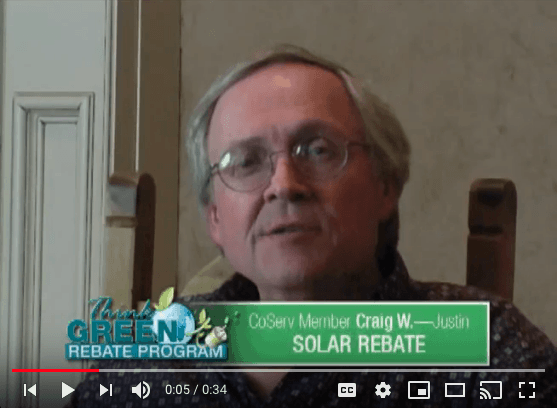 For example, member Gail D. was sharing experience about CoServ's commercial lighting rebate: https://www.youtube.com/watch?v=qT7IqOLg3FQ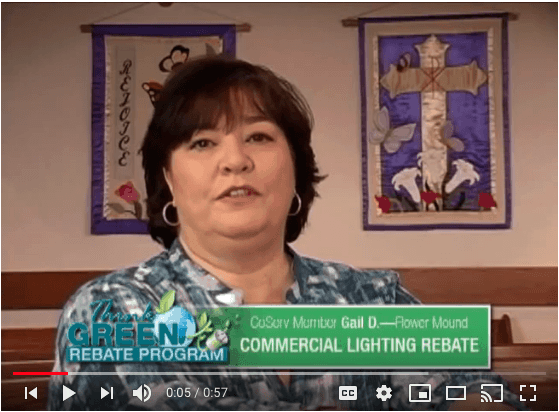 Conservation
Educating its members about energy efficiency and energy savings is not only one of the guiding principles of Co-Op, but also helps CoServ stay on top of mind among its members.
CoServ created the home conservation program to help its residential members tips on saving money, DIY energy audit, etc. This is where you can set yourself apart from other choices.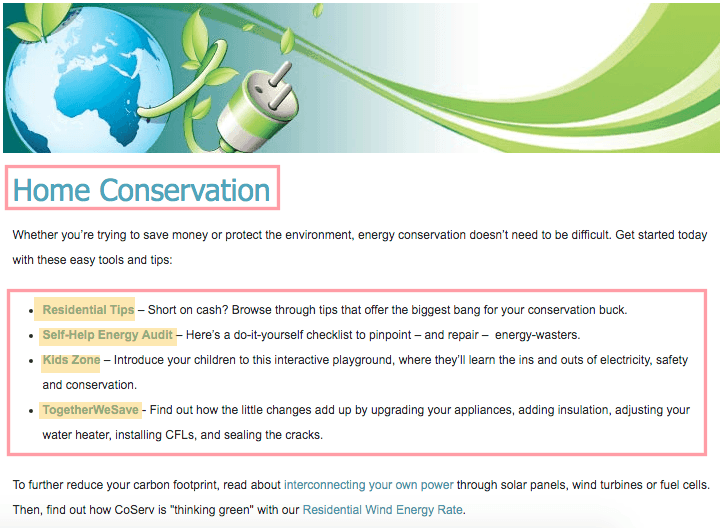 Besides the residential conservation tips, CoServ also dedicated its resources to create content to help its commercial members.
For example, CoServ helped its commercial members save money from the Lighting Rebate and tips to save. Moreover, CoServ had a dedicated newsletter, online library, assessments to the commercial members. It's definitely a huge plus because it shows CoServ cares for its members.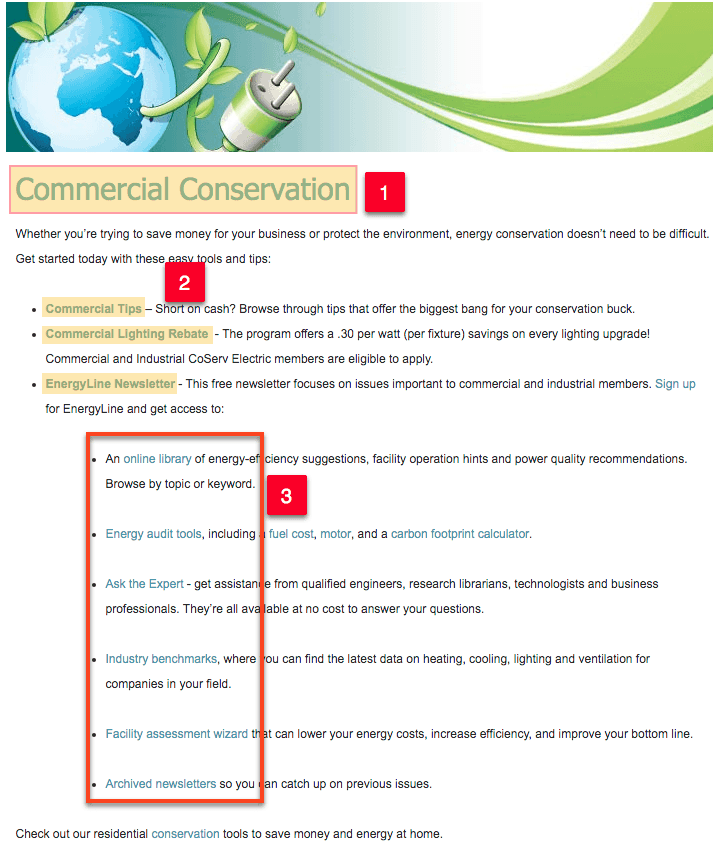 Besides electric, CoServ also offered tips and resources for its Gas members as well to make sure no members are left behind.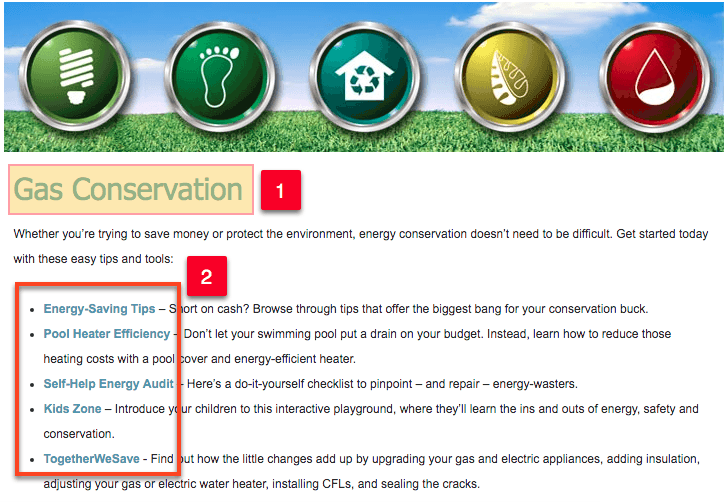 CoServ goes above and beyond the regular role of an "energy provider." They help guide their members along with their journey to have an energy-efficient home to save and conserve energy.
Weather SmartStats
This is another attempt to show how much CoServ cares about its member: To inform and guide their members with useful tips to anticipate for the weather, so that they can conserve energy and use it wisely.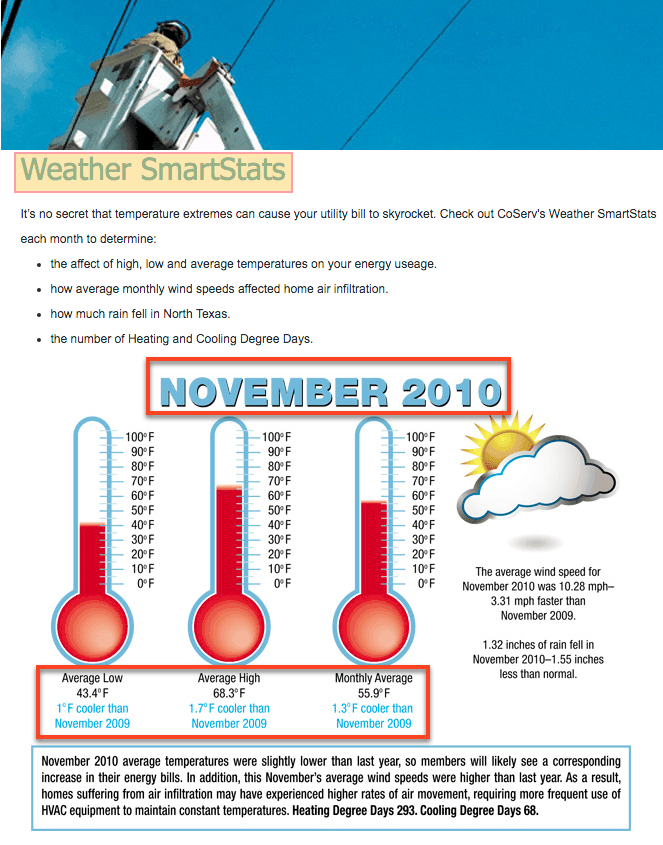 Community Campaigns
Giving back and expressing concern for the community are the guiding principles of cooperatives, and CoServ is a living exemplary case study of effective community campaigns.
With its bold and driven commitment of "building a better tomorrow," CoServ has built and nurtured a broad community:

Indeed, CoServ has built its presence across all major social media channels such as Facebook, Twitter, LinkedIn and Instagram.
For example, They have over 14K fans on FB, and according to Statista, a Facebook user in the United States has an average of 200 friends. In other words, with 14,505 fans, CoServ is able to reach 2,901,000 people, which is more than the population of Chicago, IL (2,720,546 people).
We are going to analyze all of CoServ community campaigns so that you could have multiple ideas on how each of them does.
Having created a separate and legal charitable foundation, CoServ has shown their seriousness, dedication, devotion and commitment to improve the quality of life for residents within the communities they serve.
In addition to serving the communities via the charitable foundation, CCF is a great tool to generate brand awareness and traffic to CoServ's website.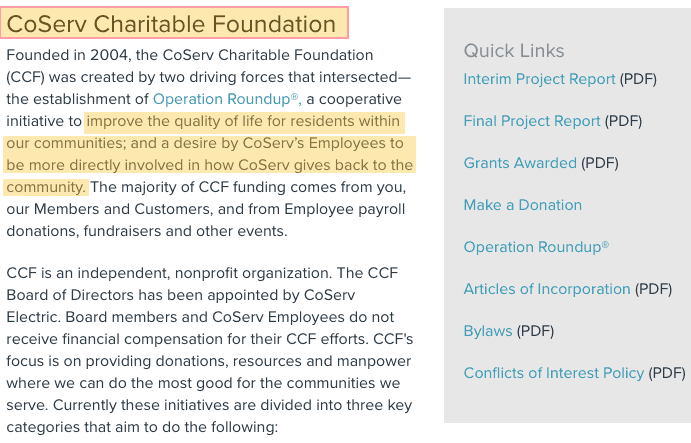 For example, here are some community projects CoServ has done:
Texas Ramp Project built wheelchair ramps for disabled or elderly people who can't afford to buy one.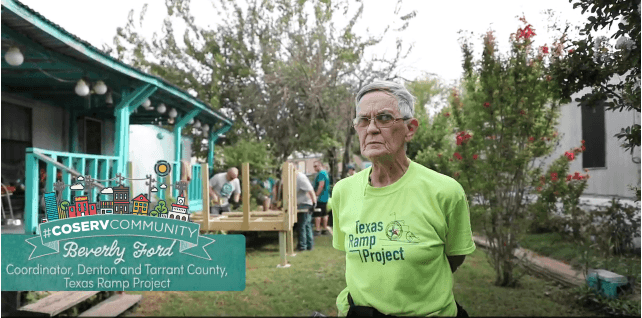 With 1,587 fans on Texas Ramp Project's FB page, CoServ not only built a strong goodwill, but also expose its brand to over 317,400 potential customers.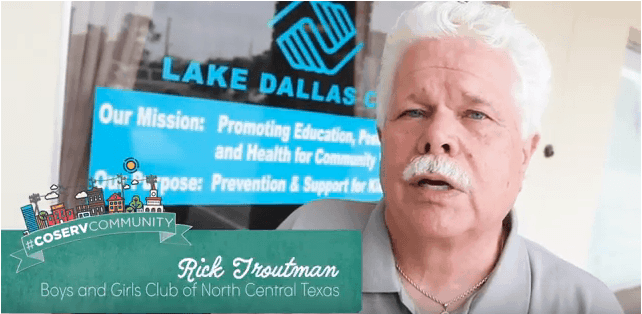 Despite a modest community on Boys & Girls Club's FB page, with over 752 fans, CoServ was able to expand its name to over 150,000 potential parents and customers.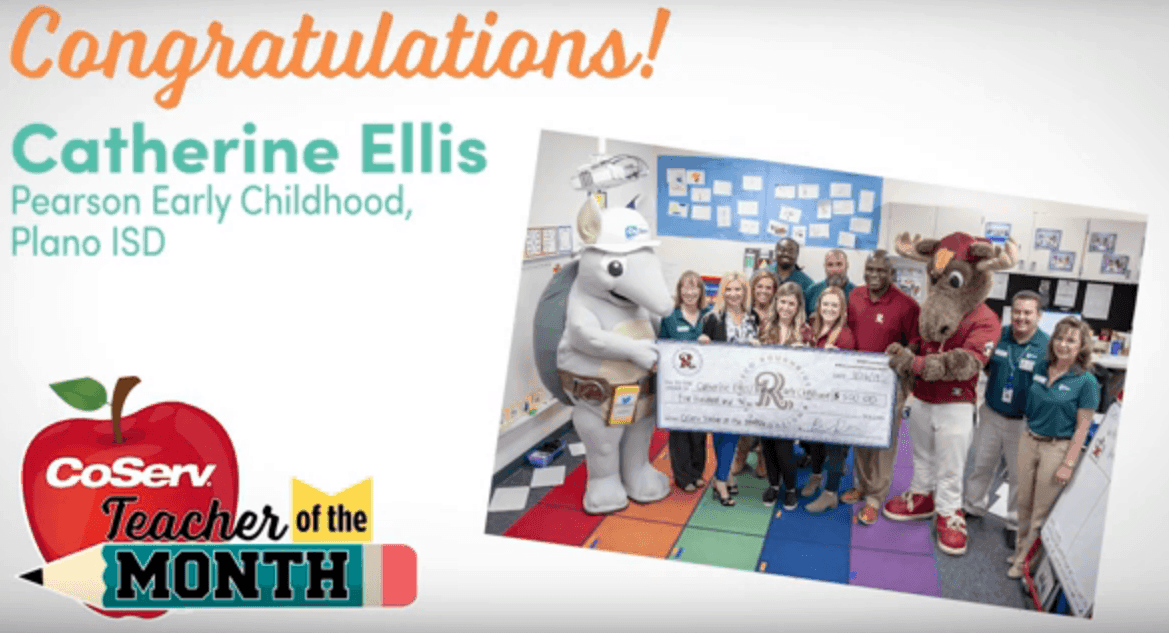 Pearson Early Childhood School's 436 fans help CoServ reach over 87,000 potential parents and customers.
Social Service Agencies
CCF has donated regularly to Social Service Agencies across North Texas so that its members and customers can access help when they need it, such as employment, job training, food pantries, healthcare and more.
Here's the map of all social service agencies CoServ has partnered with:
| | | |
| --- | --- | --- |
|   | FB Fans | Total reach for CoServ |
| Texas Neighborhood Services | 696 | 139,200 |
| Interfaith Ministries of Denton | 931 | 186,200 |
| Christian Community Action | 4,074 | 814,800 |
| Frisco Family Services | 4,518 | 903,600 |
| Texoma Council of Governments | 1,930 | 386,000 |
| Community Lifeline Center | 1,704 | 340,800 |
| Allen Community Outreach | 6,685 | 1,337,000 |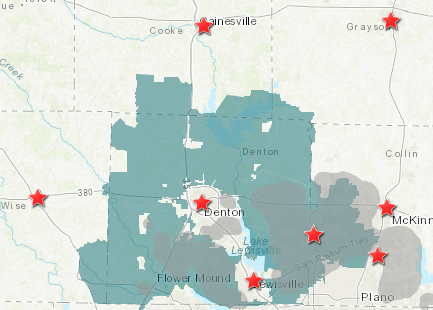 The total potential people CCF has reached is 4,662,000 people (more than the entire population of the city Los Angeles, CA – 3,971,883 people)
The idea of Operation Roundup® is that CoServ customers who "round up" their monthly electric and gas bills to the nearest dollar contributed to CoServ's CCF fund to help our neighbors in need.
According to CoServ, this program contributed over $1 million to the CoServ Charitable Foundation. The brilliance of this campaign is to involve CoServ's members and spread a sense of community and "feel-good" to its members.
Also, this campaign closes the "feel-good" feedback loop and leverages the network effect because when CoServ's members donated to the CCF, more good things in the communities happened.
Members feel good about helping others in the communities, tell their friends and families to join the Operation Roundup campaign, and the process repeats itself.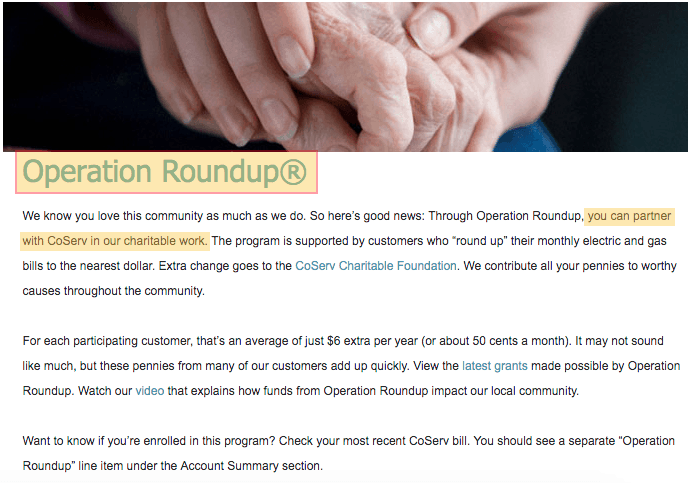 Academic Initiatives
Helping school is also a big part of CoServ's community campaigns because this is where its members are sending their children.
The benefits are many-fold because parents feel good when their electric company is giving back to the schools whose kids are attending.
For that purpose, CoServ designed a wide variety of campaigns to cover many aspects of education, teaching, and scholarship.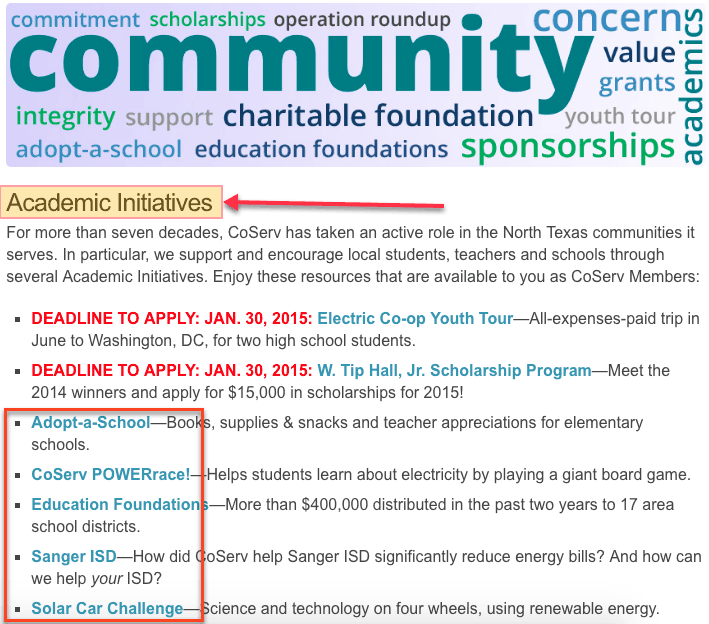 Adopt-a-School
This program is to encourage and inspire educators and students at elementary schools within CoServ's service territories.
CoServ supported teachers and students by:
Donating books to libraries
Providing supplies and snacks to students
Demonstrating to importance of safety to students through arching demonstrations
Here are the schools CoServ has helped:

Video link of the campaign: https://www.youtube.com/watch?v=a6Sg7tYM2yI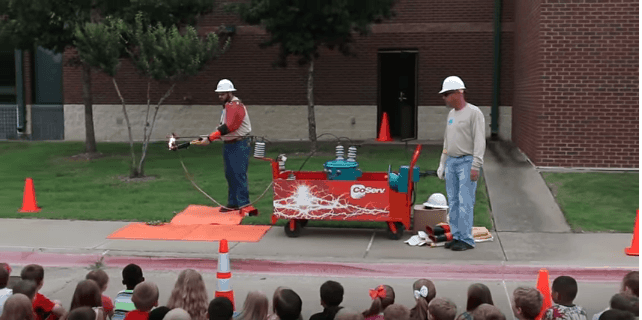 CoServ POWERrace!
CoServ POWERrace is a giant board game helping students learn how to provide electricity to a city in a fun and hands-on way because CoServ understands the power of interactivity and students learn more effectively in that environment.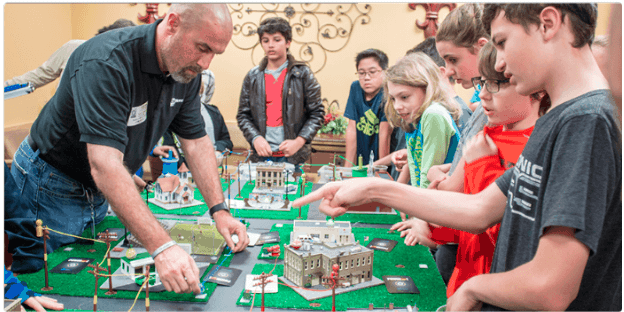 Education Foundations
Each year, according to CoServ, they donated about $265,000 to education foundations supporting educators, students and staffers in these school districts.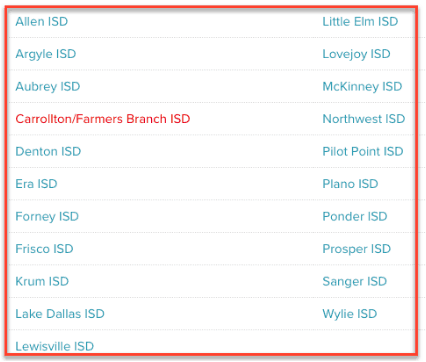 Solar Car Challenge
Sanger ISD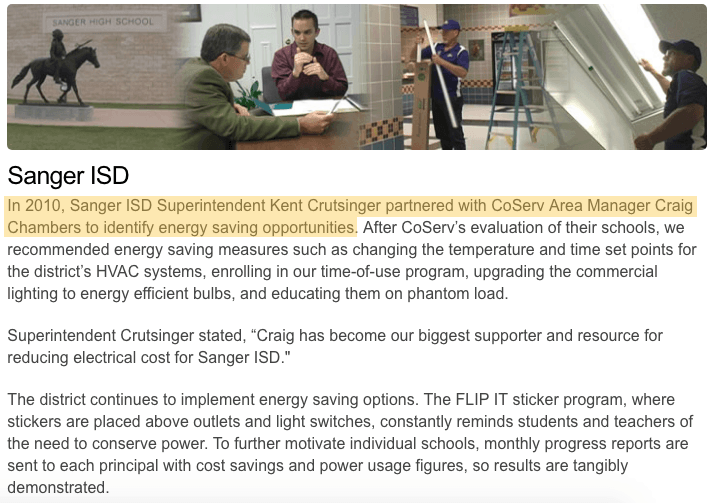 W. Tip Hall, Jr. Scholarship Program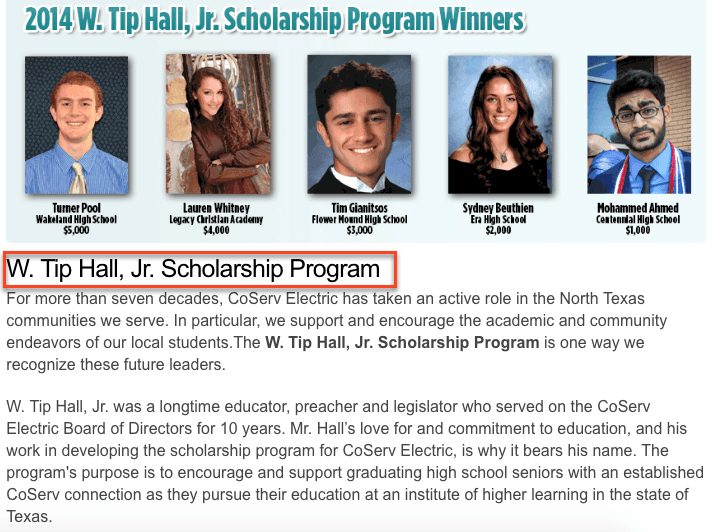 Youth Leadership Tour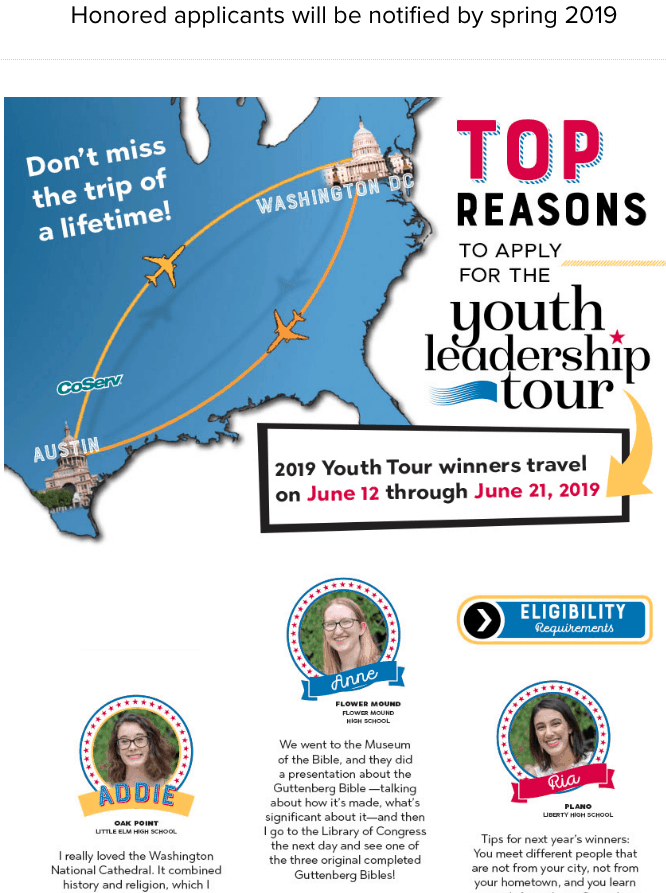 Frisco Fire Safety Town
Safety is one of the most important aspects of electric cooperatives, and the partnership with Frisco Fire Safety Town was a perfect marriage to teach children about safety because the facility at Frisco Fire Safe Town resembles a miniature Frisco with buildings that represent actual area businesses.
With over 8,900 fans on Facebook, Frisco Fire Safety Town was a wonderful opportunity for CoServ to reach 1,780,000 people when associating its image and brand.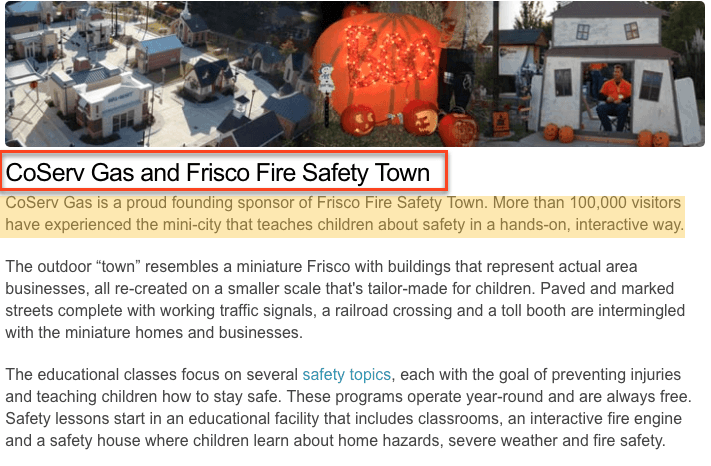 Sponsorships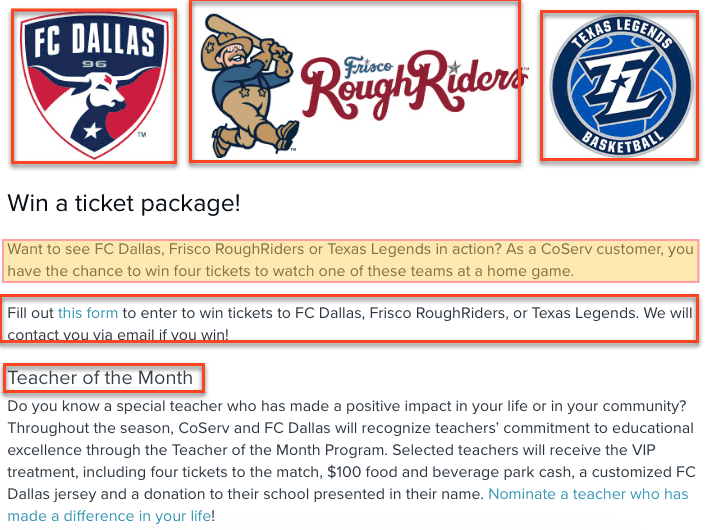 Partnering with sports teams like FC Dallas, Frisco RoughRiders and Texas Legends is another impressive campaign to increase the "stickiness" of CoServ in this hyper-competitive deregulation market.
It's the same playbook which many big brands have used for many years, and CoServ has understood the power of sports and the excitement when CoServ's members can attend games.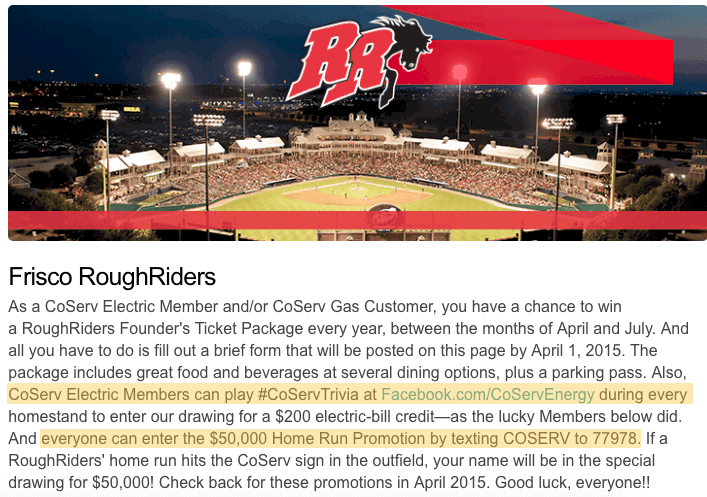 What's important about the association between CoServ and Frisco RoughRiders (Frisco RR) is when a CoServ's member won a ticket from Frisco RR, with 35,352 fans on Facebook, they'll spread the news the Frisco RR's fan base, and Frisco RR was happy to jump on this partnership.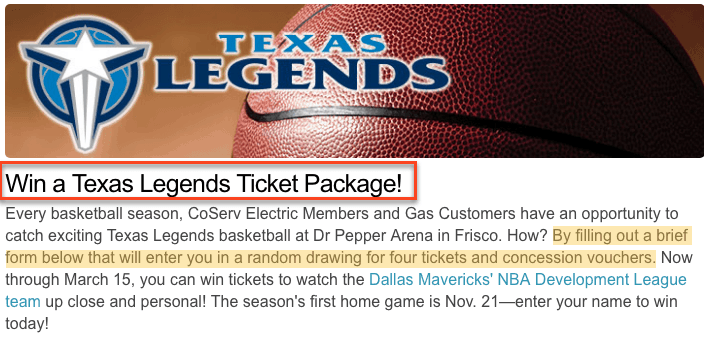 Similar to the success of Frisco RR, CoServ went ahead and expanded the partnership to Texas Legends with 33631 fans on Facebook.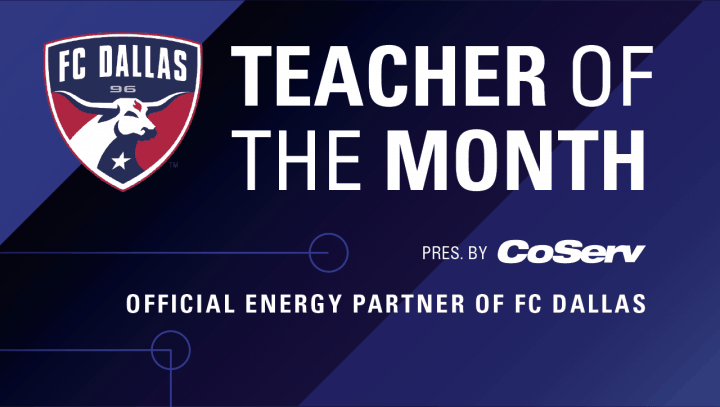 CoServ was not done yet because they wanted to target a bigger partner. They did it! CoServ became the "official energy partner of FC Dallas", with over 377,930 fans on Facebook.
In summary, campaigns with sports organizations like FC Dallas, Frisco RR and Texas Legends were definitely great investments for CoServ because attendees of those games are CoServ's target customers; moreover, the opportunity for brand awareness was even greater when the people CoServ can reach from those three sport organizations is over 89,382,600 people!
Drum Corps Int'l (DCI)
This is yet another campaign to show how diverse CoServ ran its community campaigns because CoServ didn't just focus on the "easy target," like school scholarships or sport avenues, but also it thought outside the box to lend its hand to organizations like DCI with over 371,957 fans on Facebook.

Texas Co-Op Power
Published by Texas Electric Cooperatives, this is a magazine featuring the best of Texas culture — people, recipes, travel, history and news about CoServ, the communities we serve as well as tips on how to stay safe, save energy and save money.
Certainly members can read about your CoServ neighbors in the local pages of Texas Co-op Power.
Link: https://www.texascooppower.com/content/tcp1904.pdf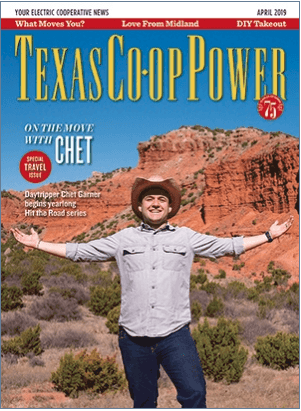 Landing Page Analysis
Studying landing pages of CoServ is one of the most underutilized and overlooked research tools to dissect and deconstruct opportunities and mistakes about their strategies, such as what offers they created and how they position their offer.
Evolution of Capital One Landing Page Since 2006-2018
CoServ's website didn't change much over time, but when it did, significant things were going on. In this section, you will learn how we broke down the changes CoServ made since 2006.
2006 & 2007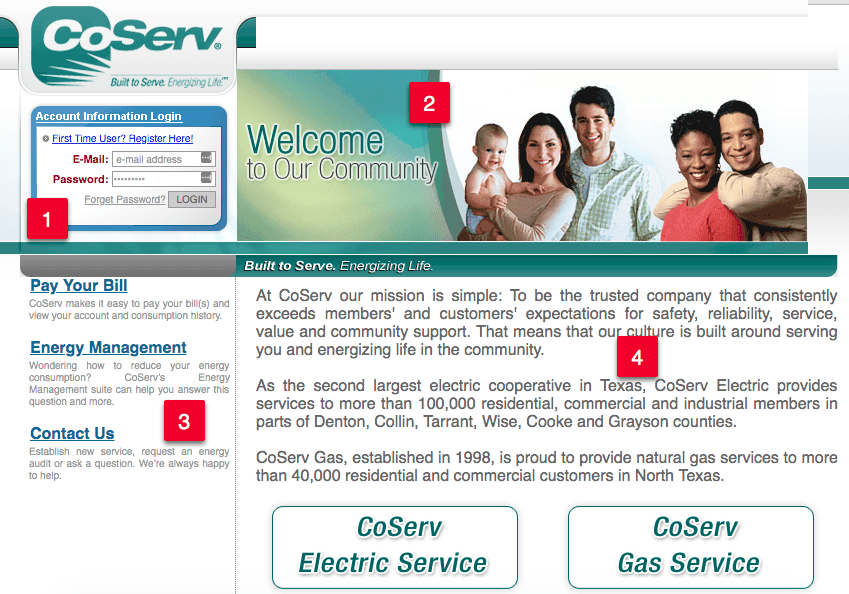 In 2006 and 2007, CoServ website was quite basic yet functional.
Placing the "login" box on the top left was helpful because CoServ knew that would be the options most of its customers took to take care of their billings.
It's disappointment that CoServ didn't maximize its prime real estate to make the main head more engaging to build its brand.

Specifically, what people saw was a big bold banner "Welcome to Our Community"
Meanwhile, one paragraph below was when CoServ talked about its mission in a small font. The "Built to Serve. Energizing Life" could have been a much better choice to feature in the big bold banner.

Obviously, CoServ was very thoughtful about placing most-used links right below the login box to improve the user experience. Adding more icons/symbols right before those links amplifies the effectiveness and are easy to use.
Overall, CoServ grew 20,000 more members (100,000 members in 2006 and 120,000 in 2007). Their revenue also increased, from $384,841,000 in 2006 to $348,079,000 in 2007.
2008 & 2009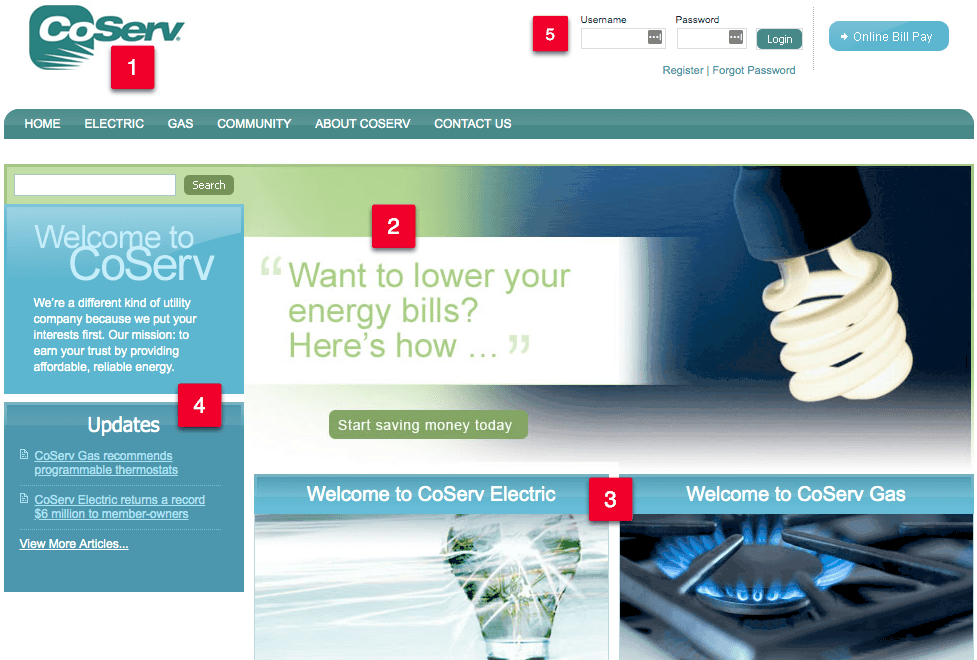 In 2008 and 2009, CoServ brought refreshing changes to its website.
A simplified logo without the tagline of "Built to Serve. Energizing Life"
We liked what CoServ did when they started to use the website's real estate wisely, with the introduction of benefit-driven statements like, "Want to lower your energy bills?" vs. "Welcome to our community." Moreover, the call-to-action below "Start saving money today" was resonating with the main message of "lowering energy bill." Well done!
CoServ modernized its two buttons of CoServ Electric and CoServ Gas. However, it felt like the text, "Welcome to ____," was mechanical and CoServ missed the valuable opportunities to sell the benefit of its service.

For example, CoServ could have picked out one distinctive aspect of their electric or gas and informed its customers about that instead of using the cliche "Welcome to…"

To complement its new logo and new skin, CoServ modularized the intro and updated into their block. It also introduced a live feature "Updates" to make the website look less "static."
CoServ simplified and moved the entire login block to the top right along with the most commonly used button, "Online Bill Pay." It was a much-needed and welcoming design because the new website looked much cleaner.
Takeaways in 2008 and 2009:

The revenue in 2008 jumped 11.95%, from $384,841,000 in 2007 to $430,834,000, which indicated new changes from the website along with a strong and bold main message that helped improve CoServ's revenue.
However, CoServ's growth lost its steam when its revenue in 2009 was down more than $40 million ($390,022,000 vs. $430,834,000 in 2008). It was a tough year for CoServ.
CoServ's loss of $40+ million was the results of the growing competitions (such as Ambit Energy), the lack of irresistible offers and a tough economic year (when the unemployment rate topped 8%).
2010 & 2011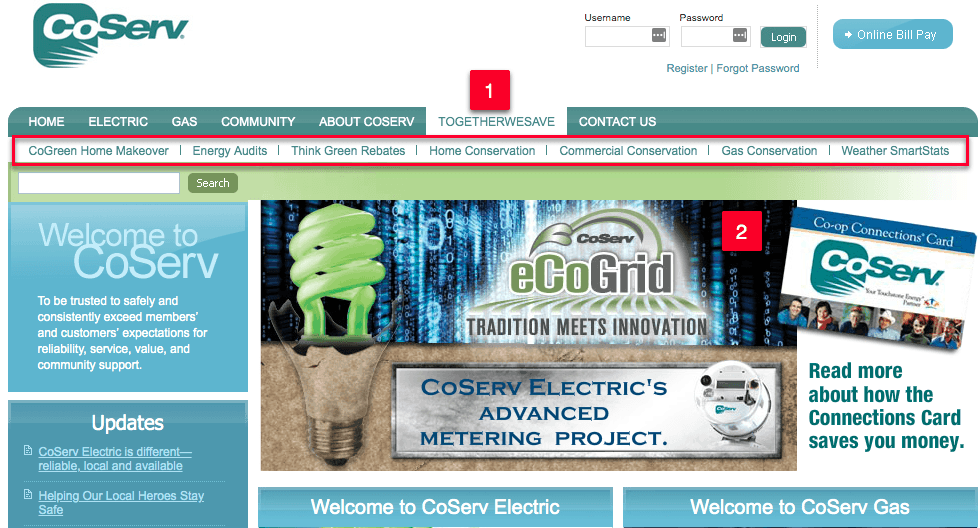 The primary change in 2010 and 2011 was the introduction of the promotional campaign TOGETHERWESAVE, which we analyzed thoroughly in the Marketing Campaigns section above. This campaign included the following programs:

GoGreen Home Makeover
Energy Audit
Think Green Rebates
Home Conservation
Commercial Conversation
Gas Conservation
Weather SmartStats

CoServ was getting savvy at using its space to promote important initiatives such as the ecoGrid and the Connections Card.
Takeaways from 2010 and 2011:

With the introduction of the TOGETHERWESAVE campaign in 2010, CoServ turned its fortune from losing more than $40 million in 2009 ($390,022,000) to a profitable $427,575,000 in 2010 and $432,647,000 in 2011.
It showed the new promotional campaign worked magically and immediately got the attention of current and new members.
2012 & 2013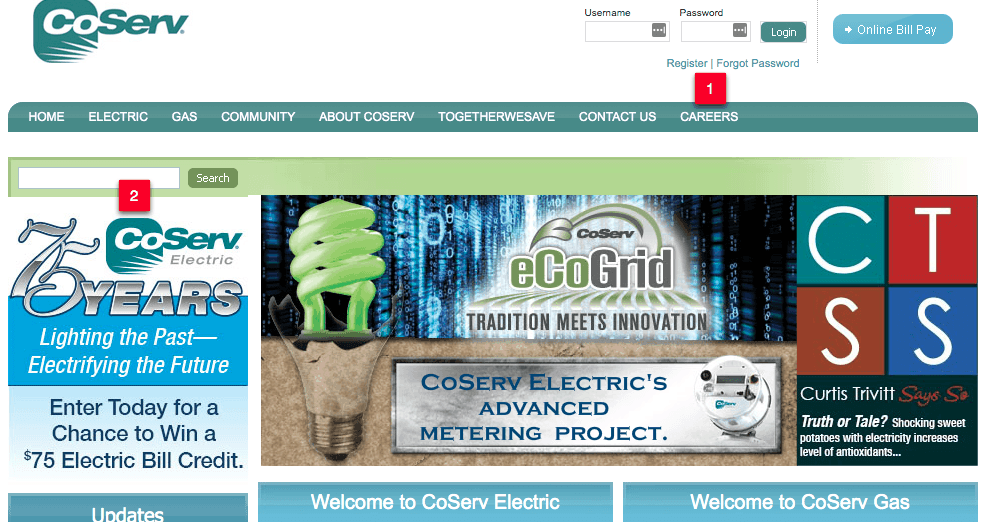 CoServ introduced a new tab ("Careers") on the website, which signaled expansion and streamlined hiring process. According to CoServ's annual report in 2012, their goal was to attract and retain high-quality employees with great skill, knowledge and character.
The Career page of CoServ indicated that they were on a hiring spree and expanded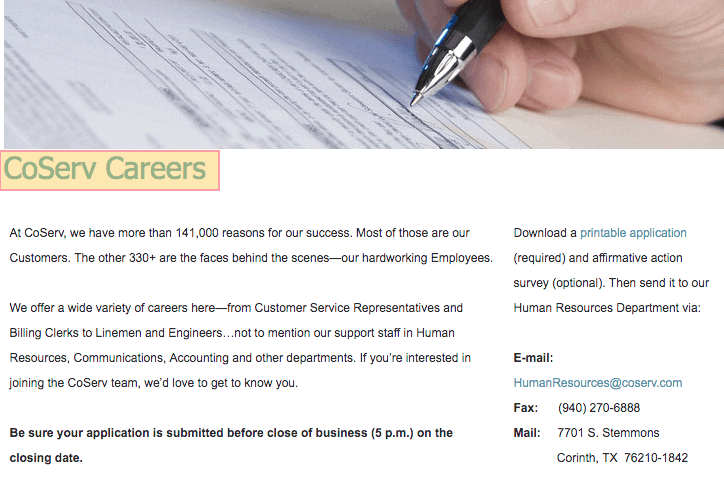 With positions mostly in the operations and project management.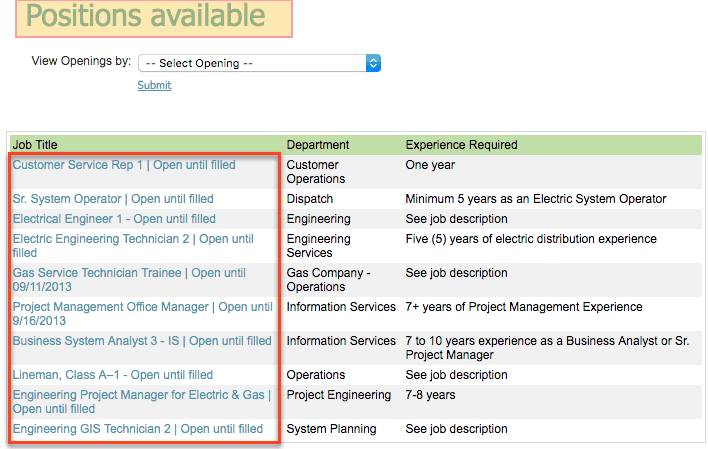 At last, CoServ got rid of the nagging "Welcome" block on the left and replaced it with a more meaningful and beneficial approach, such as "celebrating 75 years," or a drawing contest to win $75 electric bill credit. We liked this change because it shows that CoServ knew more and more about its members.
Takeaways in 2012 and 2013

Financially, 2012 was really a tough year for CoServ. The cooperative suffered a loss of more than $40 million (with revenue of $392,330,000 in 2012 vs. $432,647,000 in 2011).
Additionally, in 2012, CoServ lost more than 17,000 members (143,253 vs. 161,159 in 2011).
The deregulation has fostered a hyper competitive energy market in the entire Texas state. For example, by the end of 2012, there were 45 retail electric providers offering 258 different price plans to residential customers in Texas market.
A google search for "ambit energy" showed many paid ads options while CoServ virtually spent $0 for paid advertising on Google.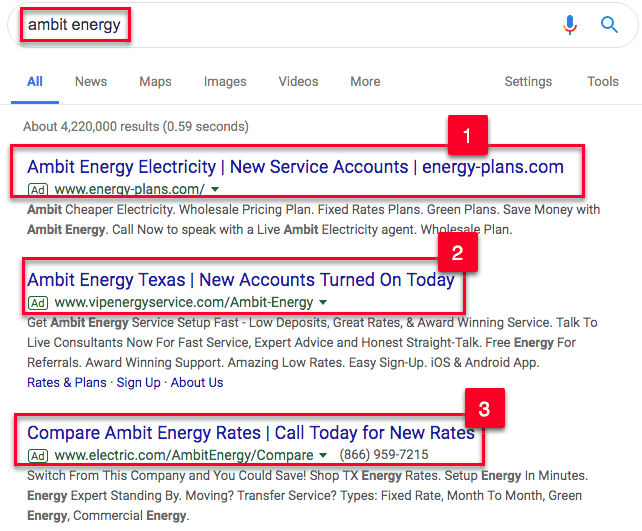 With the plethora of choices, from the market and the savviness in marketing of the other 45 retail electric providers, CoServ had a tough time competing with them in 2012.
In 2013, it looked like the effort to recruit more talents and expand operations paid off when CoServ's revenue turned positive ($413,464,000 vs. $392,330,000 in 2012).
2014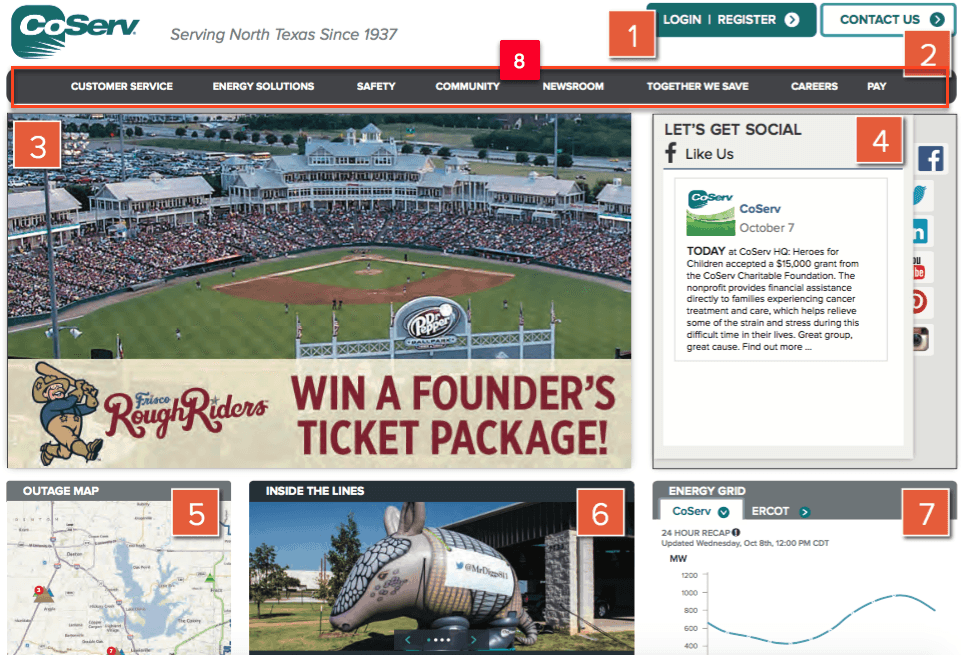 In 2014, CoServ debuted its brand new website packed with more functionality to increase the user experience.
In 1 and 2, CoServ hid the username and password field. They simplified further by introducing the login button and by making the "Contact Us" button right next to the login. This was a welcoming change and a smart use of space and aesthetics.
3. After years of experimenting with a big banner, CoServ made the banner of promotion and info even bigger this time
4. A social dashboard with CoServ's social updates from all major social networks made the site even more alive and in tune with CoServ's initiative of "Let's get social" in 2012.
5. 5, 6 and 7 revealed the latest effort to make life easier for CoServ's members when they need to check the outage alert, safety news and energy grid.
8. A new featured menu to rearrange information and make it much easier to navigate.
6. Takeaways in 2014:
CoServ made a lot of investment on its new website with its members' mind to simplify their user experience.
Moreover, CoServ revamped the information on its campaign, TOGETHER WE SAVE, and listed out more specific rebates their members can participate in along with energy savings tips.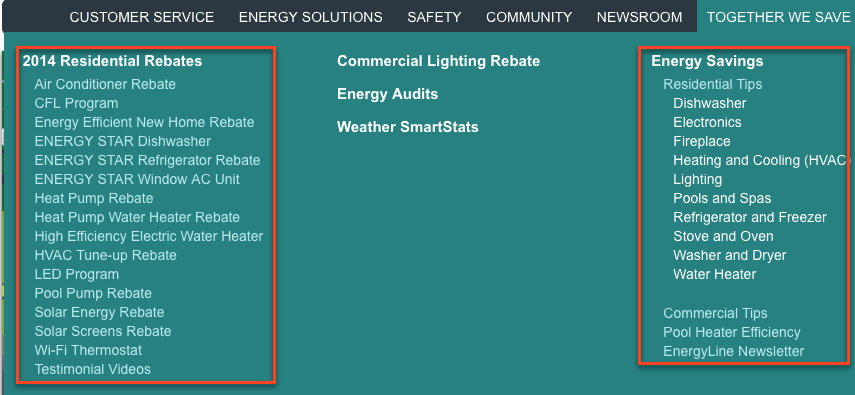 Indeed, CoServ had a terrific 2014 when revenue soared to $486,555,000 in 2014 vs. $413,464,000 in 2013; that's more than $73 million increase in revenue. In addition, the total members were increased to 159,108 vs. 150,338 in 2013.
Overall, a new website with a strong emphasis on user experience, on-target promotion (such as rebates and focus in social media) have powered CoServ to a strong year financially and growth-wise.
2015 & 2016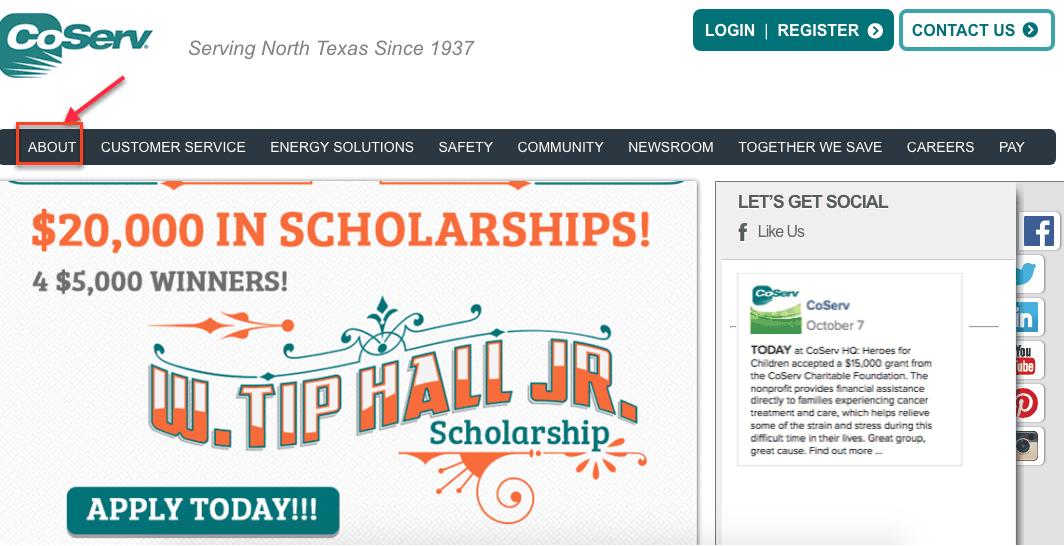 In 2015 and 2016, there wasn't much change besides the addition of the "About" menu item, which organized CoServ's mission/vision and more information about its board of directors and capital credits.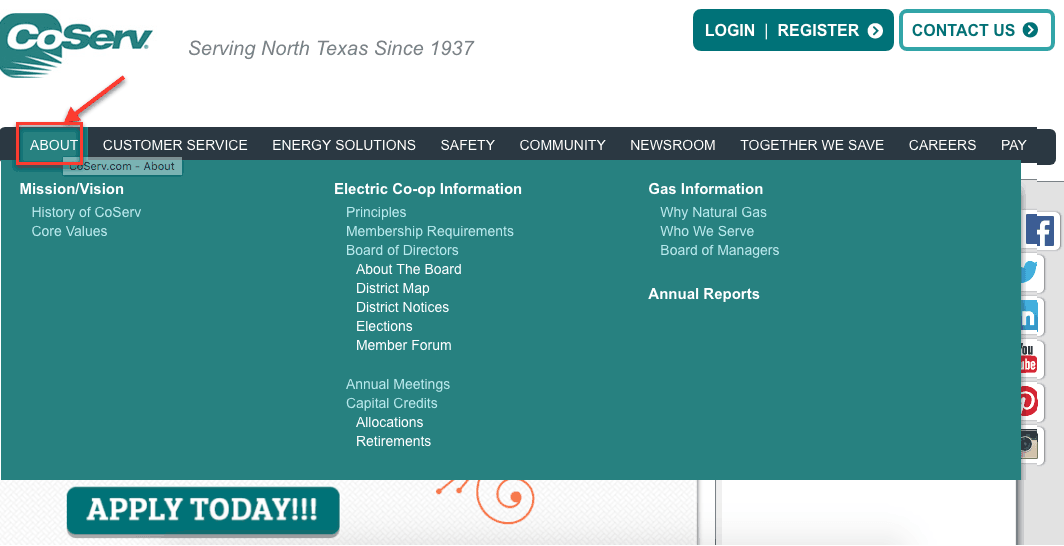 Takeaways in 2015 and 2016
After a major overhaul of the website in 2014, CoServ didn't make any significant change in 2015 and 2016.
CoServ continued to add more members to 172,117 in 2015 and 177,401 in 2016 vs. 159,108 in 2014. However, CoServ's revenue loss widened to $30,779,000 in 2015 and $14,392,000 in 2016. In other words, revenue declined sharply from $486,555,000 in 2014, $455,776,000 in 2015 and $441,384,000 in 2016.
Notably, the promotional rebate items were reduced to 7 in 2016 vs. 9 in 2015 vs. 16 rebate items in 2014. The rebate changes implied an erosion in rebates program it's appealing.
2017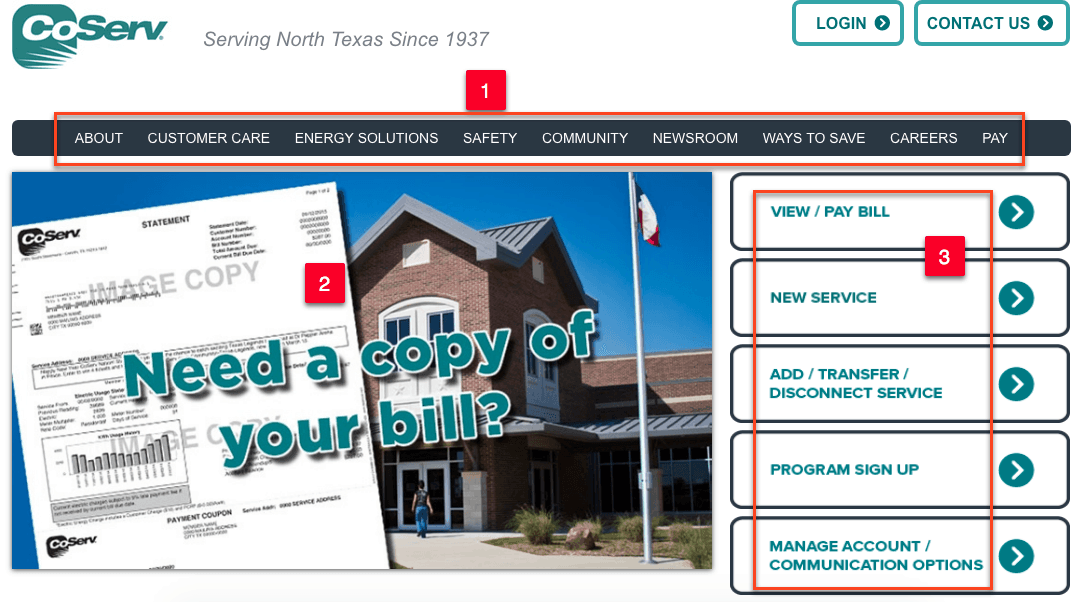 In 2017, CoServ made another some major changes on its website.
The menu item has been revamped a little bit. For example, CoServ renamed the campaign "TOGETHER WE SAVE" to "WAYS TO SAVE" with similar rebate items in 2016.
CoServ utilized this area pretty well by highlighting its promotion and common requests their members need.
CoServ also took down the social dashboard and replaced it by most commonly used links to its service. Once again, CoServ stuck with what worked in the past when it focused on improving user experience.
Takeaways in 2017:

I'd love to see more testimonials from real life customers featured on the website to continue to sell to the prospects on the emotional level via stories.
Revenues in 2017 was back to a profitable year (from $441,384,000 in 2016 to $471,050,000 in 2017). It's member growth also increased (from 177,401 in 2016 to 189,293 in 2017).
It became noticeable that most of the time, when CoServ overhauled its website, their revenue improved. For example:

In 2010, the introduction of TOGETHERWESAVE promo on the website led to more than a $37 million revenue increase.
In 2014, new website led to $73 million increase.
In 2017, new website again resulted in more than $29 million in revenue.
Current Landing Page Breakdown (2018 and onward)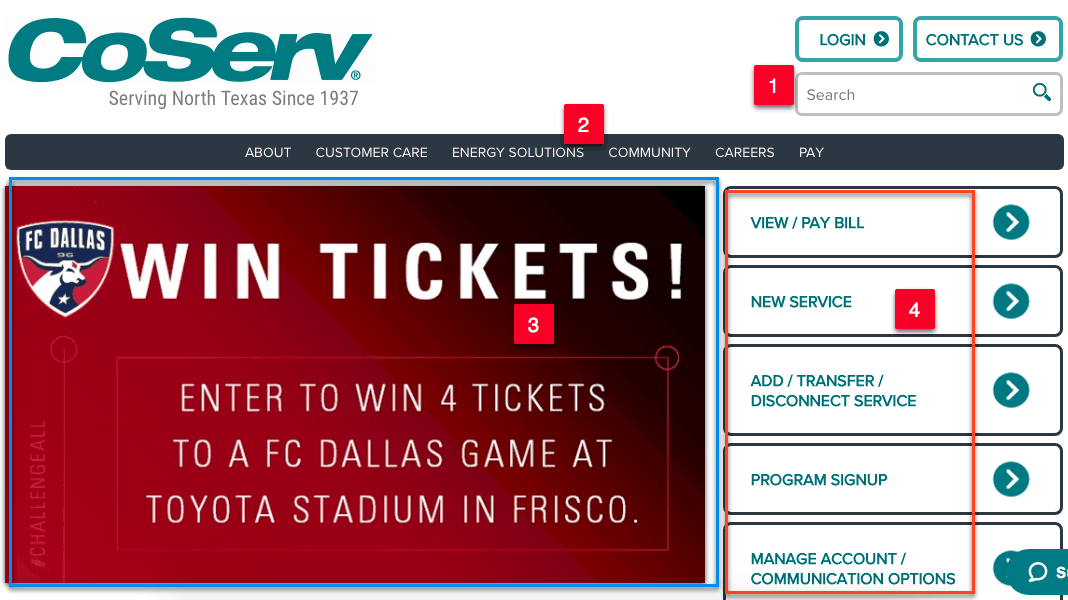 This is the above-the-fold section of their home page.
The top right section featured login, contact button and the search bar to help users find what they need.
CoServ boasted a 33% leaner menu compared to previous years. It's as if they realized they put a lot of redundant and unnecessary information there.
Promotional messages from CoServ and its partners continue to rotate to keep members informed
Useful links, so that members can find exactly what they are looking for.
All in all, it was a functional above-the-fold homepage, but we think CoServ missed the opportunity to continuously build and evangelize its brand and mission.
Although CoServ is heavily involved in community work and people know about its brand, there's no excuse to abandon the brand-building effort on the website.
Without the effort to highlight its brand message, the CoServ website will run into the risk of turning its website into another utility site. Thus, CoServ's "stickiness" will gradually erode.
For example, here's how Ambit Energy does it.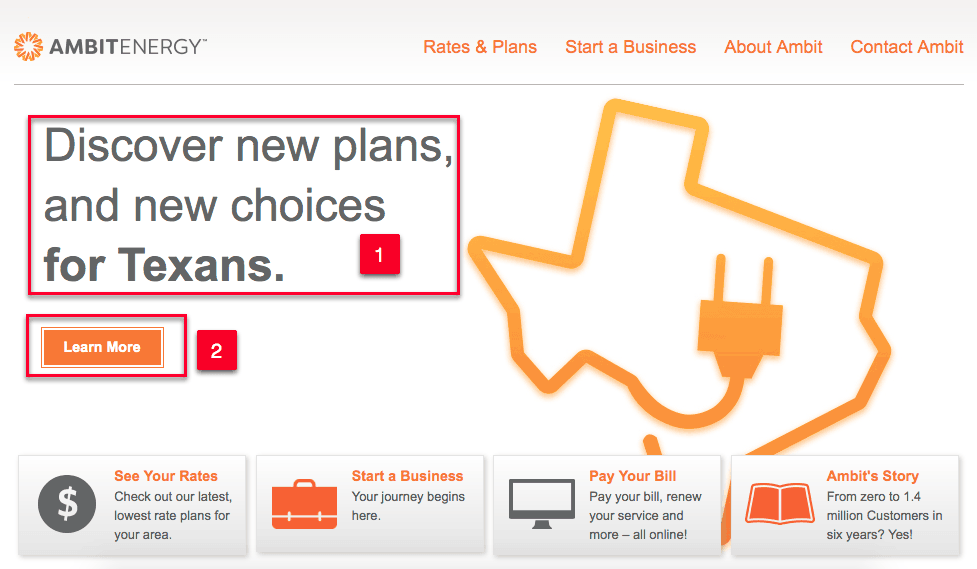 Ambit message is very clear and sound because it invites you to discover new choices
The call to action ("Learn More") is resonating with the primary message.
Here's how Green Mountain Energy does it: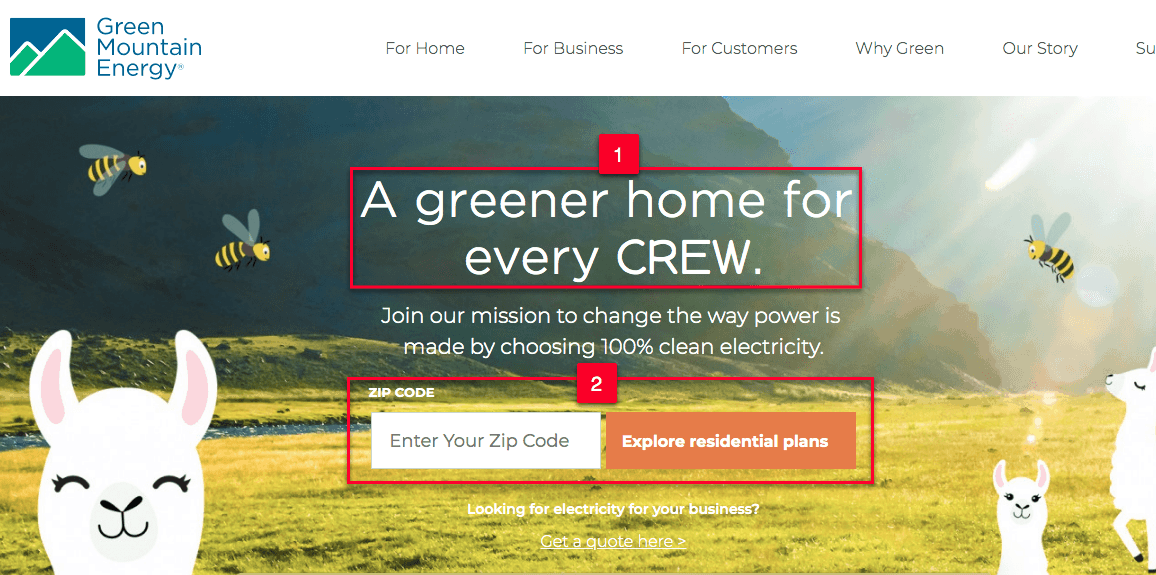 A strong and bold statement: "A greener home for every crew." The promise is strong and fits well with what Green Mountain does. Plus, the message will disqualify wrong prospects who do not appreciate the green energy while it boosts the appeal of a green energy enthusiasts. Very powerful!
The call to action is to enter the zip code to explore plans. We think it's a very logical next step for green energy enthusiasts to take.
Item 5, 6 and 7 once again strengthen the "utility" side of CoServ because it wants to make their members' life easier. On this front, CoServ gets an A+.
Once again, focusing heavily on the "utility" side weakens the brand appeal because not everyone is driven by the "utility" or usefulness. They want to be inspired.
Conclusion
There you go! The complete growth playbook of CoServ!
For smaller cooperatives that do not match the marketing budget and size like CoServ, you may feel overwhelmed by the amount of work involved. Our advice is to pick one strategy and go deeper until you master that channel.
Remember, CoServ's massive reach wasn't done overnight; it requires discipline and commitment.
Where Do You Go From Here?
If you are serious about seeking help to design a growth strategy like CoServ, get in touch with us here.