How this animal hospital
Grew their practice by 18% in the first year
Increased their online reviews by 113%
Increased their social media following by 42%
From Feb 2017 – Feb 2019 with VMP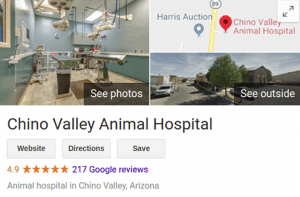 CHINOVALLEYANIMALHOSPITAL.COM
3601 HWY 89 North,
Chino Valley, AZ 86323
Getting a practice to show up on the first page of local Google searches
We built & implemented a strategy to target local pet owners at the moment they're searching on Google.
Practices that show up in the Google's local 3-pack of results book more appointments.
The more services and cities a practice shows up for in searches, the larger the slice of the market the can get.
Why It Matters
88% of pet owners
who search for local veterinarians call or visit by next day
92% of people
will only look at the first page of results
46% of searches
are for local business
THE GOAL
Increase visibility on Google
Boost online reviews
Get new pet owners into a practice
THE PROCESS
Prior to working with Vet Marketing Pro, Chino Valley Animal Hospital only ranked on the first page for a single search term
veterinarian in chino valley
Now she shows up for all of these on the front page of Google Results
Google Search Terms
pet vaccines chino valley
pet vaccines prescott
pet vaccines prescott valley
pet dental care prescott valley
pet dental care prescott
pet dental care chino valley
pet grooming chino valley
pet boarding chino valley
pet rehab chino valley
pet rehab prescott
pet rehab prescott valley
emergency veterinarian prescott valley
emergency veterinarian prescott
emergency veterinarian chino valley
animal surgery chino valley
animal surgery prescott
large animal vet prescott valley
large animal vet prescott
large animal vet chino valley
equine vet chino valley
equine vet prescott
equine vet prescott valley
house call vet prescott valley
house call vet prescott
house call vet chino valley
mobile vet chino valley
mobile vet prescott
mobile vet prescott valley
2800%
Increase in
visibility in local
searches
18% increase in revenue in the first year with us
42% increase in social media followers
113% increase in online reviews on Google, Yelp & Facebook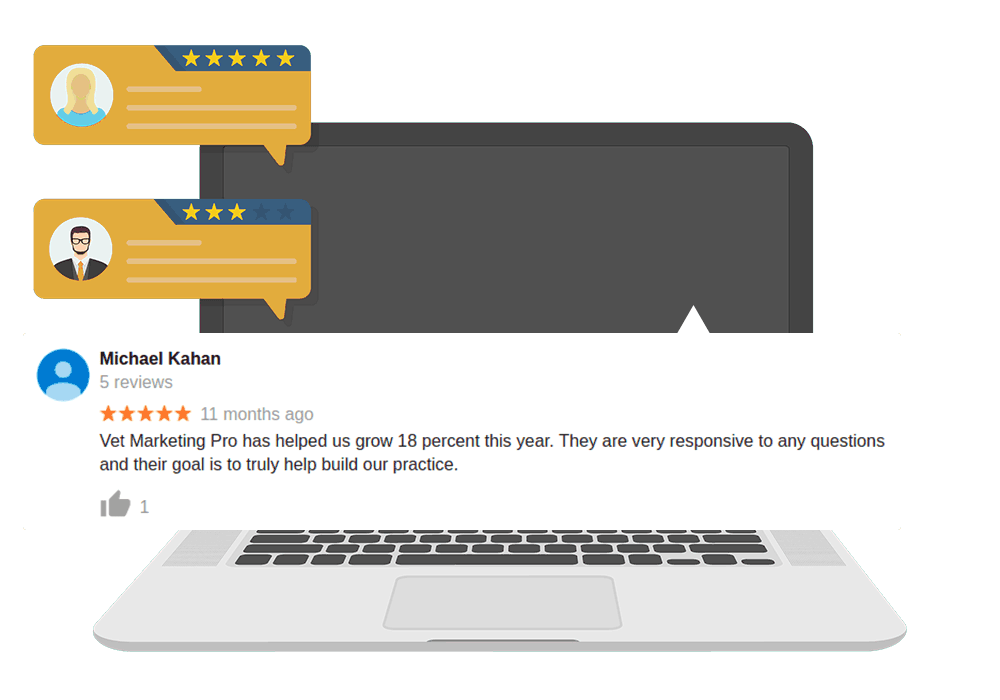 Review of Vet Marketing Pro from the owner of Chino Valley Animal Hospital, Dr. Michael Kahan